Pick the Moon You Love and Receive an Angel Message!
FIND YOUR MOON AND RECEIVE AN ANGEL MESSAGE
Find Your Moon and Receive an Angel Message. Which number resonates with you? Select that number and scroll down to read your message.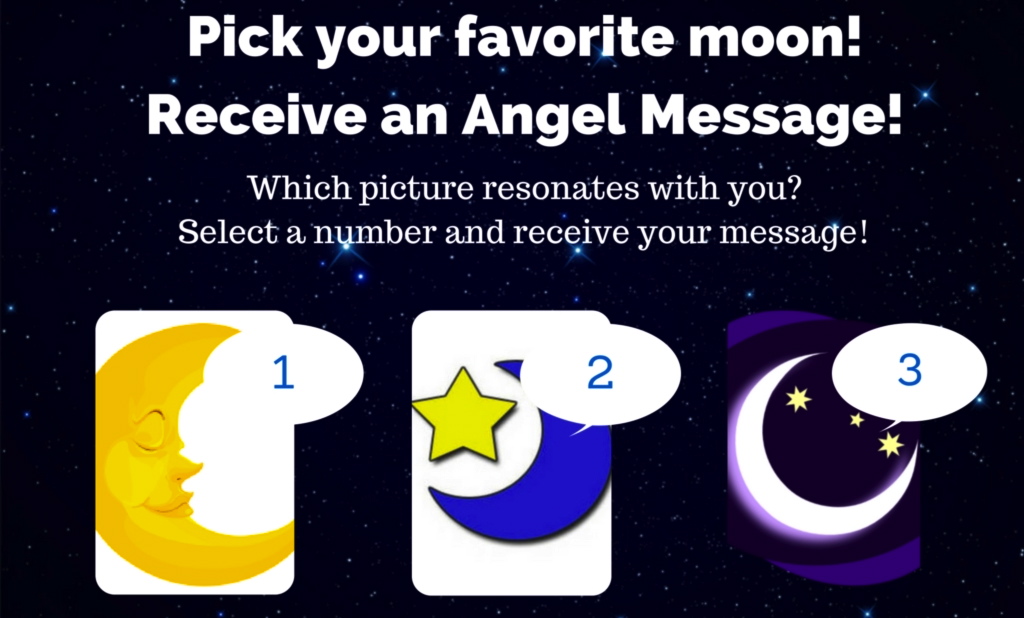 Angel Message 1:
Your angel message is: Forgiveness is the only way out of hurtful situations with others. You cannot seek revenge or remain angry as by Universal Law all that you put out comes back to you. Therefore, Forgiveness is needed in situations of betrayal, anger or other fears so that you may move forward and grow through the feelings, not acquire more of the same.
Angel Message 2:
Your angel message is: Relationships with others in the physical realm are present many times so that you may experience acceptance. This may be acceptance of the other or possibly even just acceptance for yourself. However, do keep in mind that by learning acceptance, it does not always mean that you need to continue to have the person in your life to do so. If it is time to release someone with love, then it is time. Trust your gut. Ask if it is time and if you feel it is, accept that it is right for you to move on, ask us for help in cutting any ties with love and release it.
Angel Message 3:
Your angel message is: Go forward with confidence in manifesting your dreams and know that we are always beside you helping pave the way of making those dreams become reality. Believe and trust that you are never alone in these goals. If your dream resonates true to your soul, then success is assured. Go for it and have confidence that all is possible if we work together!
source lisabeachy
Subscribe to We Are Human Angels
Get the latest posts delivered right to your inbox