Which card calls to you? 1, 2, or 3?
One card might call to you more than the others, and this is a stronger resonance for you this month. Which one did you pick? Scroll down to see your Angel Message…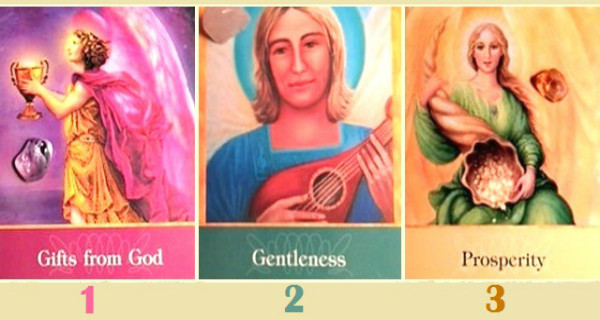 (1) Gifts From God ~ Archangel Sandalphon: "We angels bring you gifts from your Creator. Open your arms to receive."
"Heaven is expansive and ever-increasing. One of the ways in which Heaven expands is through giving and sending love continuously. this love is sent your way in many forms and your only task is to be willing to receive. Right now, the answers to your prayers await your willing receptivity. Open your arms to these gifts! Your Creator wills that you be happy, healthy, secure, and that all your needs will be provided. Release any fears of receiving to me."
One of Sandalphon's principal roles is to deliver and answer our prayers. Sandalphon says that every prayer is head and answered (although the answer may come in a different form than we expect). All prayers are of equal importance in Heaven and there are plenty of angels to help everyone on Earth. Call upon Sandalphon when you need help in allowing yourself to receive."
(2) Gentleness ~ Archangel Sandalphon: "Be very gentle with yourself at this time. Surround yourself with gentle people, situations, and environments."
"Sandalphon wishes to help you feel peaceful and centered and he strongly advises that you begin by listening to gentle music. Play it wherever you go. Talk quietly and engage in slow, rhythmic movements such as swaying to music or a gentle yoga session. Don't engage in battles at this time. Instead, retreat from conflict while you revive your spirit and become even stronger. Delay decision making at this time. You will know exactly what to do when you emerge from your gentle retreat."
Sandalphon's aura is calming and a cool shade of turquoise, like the translucent tropical ocean. Meditate upon this colour or hold the stone associated with his energy – turquoise – and feel your heart rate and breathing become quieter. Sandalphon can help your words and actions to be kind and gentle, yet powerful. As the archangel associated with music, you can feel his presence strongly when you listen to music, sing or play a musical instrument.
(3) Prosperity ~ Archangel Ariel: "Your material needs are provided for as you follow your intuition and manifest your dreams into reality."
"I'm pouring a cornucopia of prosperity upon you and your life, and ask that you open your arms to receive. Some of the treasures will come in the form of brilliant ideas, and some will come as opportunities. We'll work together to realize your highest dreams, and I ask that you give any worries to me. God and I love you very much, and are happy to help you in this way. We know that you'll pass along the goodness to others as well."
Ariel is involved with Divine magic, which means instant manifestation of the highest will. Ariel helps you attract any support you need for your life's mission. Know that it's normal and "in-the-light" for miracles to occur in this arena. Ariel's aura is a pale shade of pink, and if you wear or hold a rose quartz crystal, your heart will open further to Ariel's magnificent love. Ask her for whatever you need, and she'll guide you accordingly.
Article Source: mssnaturalbeauty
Please Note: this article has been re-posted without prior written consent by the original Author. Link to the original article and site can be found above this disclaimer. If you are the Author of this post and you think that we are not re-posting it under the realm of 'fair-use', please contact us earthangelshouse@gmail.com
Would you like to have - not just one, but - 365 Prayers to the Angels that you can use any time you need to ask your Angels for help and guidance? It would be amazing to have legions of Angels at your beck, wouldn't it? So you might have a look at our Book 365 Prayers to the Angels: Get your prayers answered and fulfill all your dreams with the help of the Angels